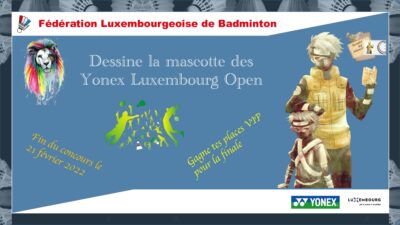 Draw us a Mascot!!!
We have a challenge for you:
We create and imagine the future mascot for many years of our tournament the Yonex Luxembourg Open.
We need your good ideas, your imagination, your talent to give life to the new mascot. This mascot will be, first and foremost, the image of our tournament and a future living mascot (yes, one day, it will come to life in the form of a life-size costume)
As it might involve an adult inside to make it vibrate, to exist, the mascot must be able to stand up, have a dynamic and friendly attitude. An animal, an animated character (manga ), a Sportsman or any other idea that seems to you to make us an exceptional mascot is welcome.
Oh, it will also need a Fantastic name of course!
PRIZES TO BE WON:
– Prize for the winner: 4 VIP tickets to the semi-finals and finals on Sunday 8 May 2022 and a training session with a national player.
– Prize for the second place winner: 2 VIP tickets for the semi-finals and finals on Sunday 8 May 2022
– Prize for the third: 1 prize offered by our sponsor
Send your drawings until 21 February 2022 to luxopen@badminton.lu